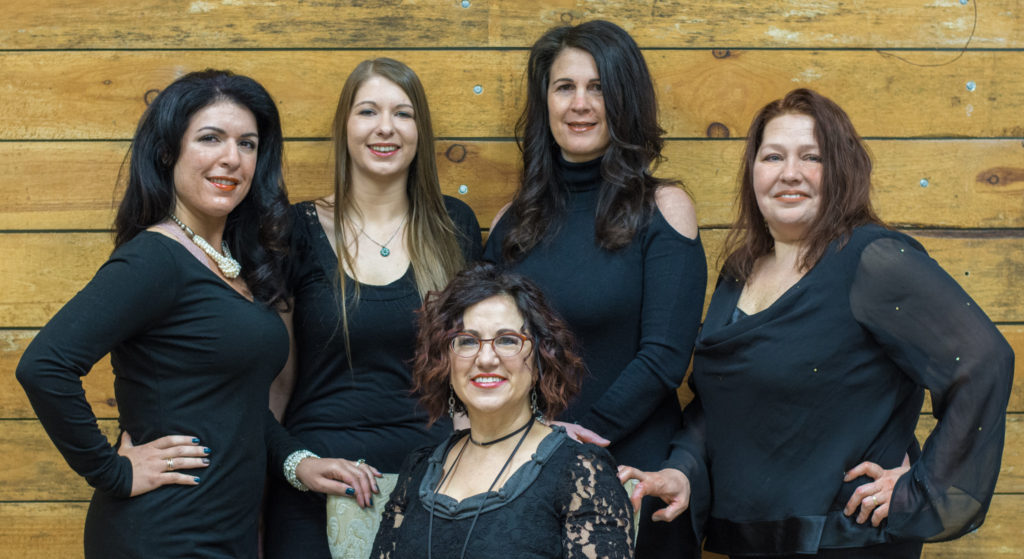 Left to Right: Julia, Danielle, Mary, Melissa, Michelle
Mary Neal – Owner
Mary, the owner of Rivé Nail + Skin Care Spa, has been blessed in many ways. In business, God has blessed her with a dynamic group of women who are all devoted to doing the best job at anything they embark upon, and their devoted hearts in seeing Rivé Nail + Skin Care Spa succeeds. In her personal life, her husband of thirty three years and counting, Mark, has been her cheerleader, best friend, advisor, and wears any other hat necessary to ensure the success of Rivé Nail + Skin Care Spa. She too is a loving, devoted mother of two beautiful children (Daniel and Alexandra). In her spare time, Mary enjoys shopping, reading, exercising, finding great "foodie" places to eat, wine, shopping, and many other creative activities. Mary brings 31 years experience to the business as a graduate of The Pittsburgh Beauty Academy, with a degree in Civil Engineering, and an associate's degree in Architectural Drafting and Design. Over the years, she has had a few successful, secondary businesses such as a gift basket business, jewelry designing, and as a direct sales consultant for Silpada Designs Jewelry. Her precise attention to detail and artful eye have been the sources of her success. She is extremely passionate about her work, and says, "It's not about the nails. It's about the friendships I have made over the years with the amazing women I have met, and making them feel special."
Danielle Haley – Spa Coordinator
Danielle is very friendly, easy to talk to, and a good listener. Her impressive experience in customer service brings a whole new vibe to Rivé. She is always pleased to help with any questions or customer needs. As she says, "I enjoy making people happy, and helping to put a smile on their face." Danielle is the new face of Rivé, and we are excited to have her greet the day with a smile, everyday. Danielle learned she wasn't keen on working in the field of cosmetology as an operator, having taken the full course-work in cosmetology, however, she brings that aspect of understanding into her position as spa coordinator, and enjoys more this end of the business.
In her spare time, she enjoys spending time with the love of her life, Jake, but her first real love is for Lloyd, her cat! We are all crazy cat ladies & strong animal lovers, but Danielle is the queen of cat loving! In her spare time, she enjoys scrapbooking, playing darts, baking, and spending time outdoors!
Julia Straka – Micro Current Specialist / Aesthetician / NovaLash Extensionist
Julia is a licensed Beautiful Image Micro Current Specialist and Aesthetician.  After receiving her degree in Radiology and working as an X-ray technician she decided it was time for a career change. She trained with the Beautiful Image Company and became specialized in micro current facial sculpting. Julia later received her Aesthetician license from the South Hills Beauty Academy to expand her knowledge of the skin.
She has been married to her husband Jim since 2004 and they were blessed with their daughter Jillian in 2012. She enjoys spending time with her family and watching her daughter grow through each different stage of her life.  When Julia is not working she finds time to volunteer at her daughter's school and staying up to date on the latest trends in skincare.
She grew up in the Pittsburgh area and currently lives in Monroeville Pa. In addition to spending time with her family she also enjoys shopping, fine wines and dinners and her two little dogs Hemi and Taco.
Julia is very personable and easily makes friends wherever she goes. She is dedicated to her work and loves helping each one of her clients reach their skin care goals.
Melissa Smith – Nail Technician / Cosmetologist
A Murrysville resident, Melissa is a licensed cosmetologist, but loves doing nails and waxing. That is her focus here at Rivé. She has been in the business for 25+ years. Recently, Melissa sold her salon in Bloomfield that she owned and operated the past 12 years. She brings a cheerful, particular, and professional demeanor to the table!
Michelle Lydon – Licensed Massage Therapist
Michelle is a Licensed Massage Therapist with several years experience. She graduated from Pittsburgh School of Massage Therapy where I was trained in several different massage modalities. She is a skilled massage therapist and specialize in several different massage modalities, some of which include: Deep Tissues Massage, Myofacial Release Massage, Sports Massage, Trigger Point, Swedish Massage and Hot Stone Massage. She pays very close attention to the clients needs in order to provide a massage that best suits their needs.